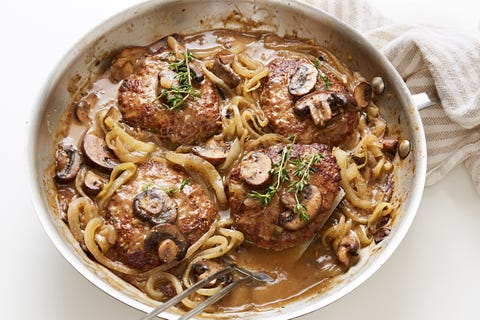 Erik Bernstein https://pinterest.com/pin/create/button/?url=https%3A%2F%2Fwww.delish.com%2Fcooking%2Frecipe-ideas%2Fa32689259%2Fhamburger-steak-recipe%2F&description=Hamburger%20Steaks%20Take%20Ground%20Beef%20To%20New%20LevelsDelish&media=https%3A%2F%2Fhips.hearstapps.com%2Fhmg-prod.s3.amazonaws.com%2Fimages%2F200518-delish-seo-hamburger-steaks-h-14555-eb-1590608186.jpg%3Fresize%3D1600%3A%2A] Hamburger steak is similar to https://www.delish.com/cooking/recipe-ideas/recipes/a54937/best-salisbury-steak-recipe/]salisbury steak and covered in an onion and mushroom gravy. It's simple and foolproof and completely worthy of your dinner table. Serve it over a bed of https://www.delish.com/cooking/recipe-ideas/recipes/a50630/perfect-mashed-potatoes-recipe/]mashed potatoes or with https://www.delish.com/cooking/recipe-ideas/a29833260/parker-house-rolls-recipe/]Parker House rolls.
Have you made this yet? Let us know how it went in the comments below!
Advertisement – Continue Reading Below Yields: 4 servings Prep Time: 0 hours 10 mins Total Time: 0 hours 40 mins Ingredients 1 lb. ground beef
1 large egg
3 tbsp. bread crumbs
1 tsp. garlic powder
1 tsp. onion powder
1/2 tsp. paprika
Kosher salt
Freshly ground black pepper
2 tbsp. extra-virgin olive oil
2 tbsp. butter
8 oz. sliced baby bella mushrooms
1 small yellow onion, thinly sliced
2 tbsp. all-purpose flour
1 1/2 c. low-sodium beef broth
1 tsp. Worcestershire sauce
1 tsp. fresh thyme leaves
Directions
In a large bowl, combine beef, egg, bread crumbs, garlic powder, onion powder, and paprika. Season with salt and pepper. Divide beef mixture into 4 patties, then flatten to ½" thick oval patties.
In a large skillet over medium heat, heat oil. Add patties and cook until golden and cooked through, 6 to 8 minutes per side. Remove from skillet and set aside to keep warm.
To same pan, melt butter. Add mushrooms and onions and cook until softened, 5 minutes. Add flour and toss to coat veggies. Slowly whisk in broth, then add worcestershire and thyme. Bring to a boil, then reduce heat to a simmer and let simmer until thickened, about 5 minutes. Season with salt and pepper.
Return steaks to skillet and spoon sauce over. Heat until warmed through.
https://www.delish.com/author/17846/makinze-gore/] Makinze Gore Associate Food Editor Makinze is the Associate Food Editor for Delish.com.