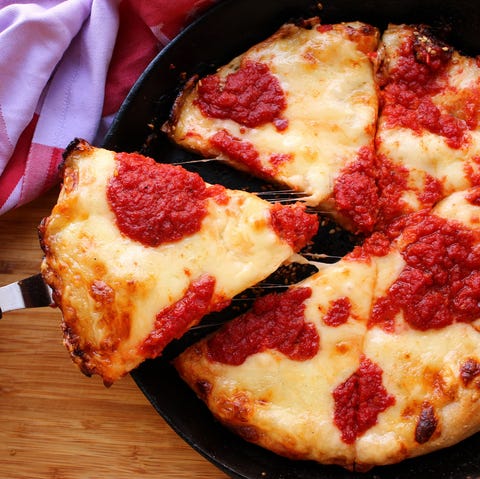 June Xie If you love pizza, you're in luck. This pan pizza recipe will give you a super versatile dough that you can make into a fantastically pillowy cast-iron skillet pie, or stretch out by hand into a classic New York style slice to bake on a sheet tray. For those no-frills days when you're not in the mood for sauce and cheese, you can treat this dough just like you would a traditional focaccia and bake it plain with lots of oil, flakey sea salt, herbs or whatever else you want to throw on top for a jazzed-up piece of crunchy-soft bread.
A dough like no other
There are three things that make this pizza dough unlike any other you've made before: a tangzhong paste, a little bit of whole wheat flour, and a very long resting time. The tangzhong method incorporates a water roux into the dough to maximize the tender, moist qualities found in your favorite breads. Often used in Japanese-style milk bread, you can make tangzhong by briefly cooking water and flour together over a medium-low heat until a paste forms. This process gelatinizes the starch content in the flour and helps trap moisture inside the dough, giving you a bite of pizza that is pillowy, fluffy, and soft with a little chew on the inside.
Accounting for about 10% of the total flour weight, the whole wheat flour plays two roles: providing a more hearty flavor to the dough, and giving the moisture-rich dough more structure. While you can use entirely all-purpose or bread flour-just substitute in 1/3 cup of white flour instead of 1/4 cup whole wheat-the higher bran and germ content in whole wheat gives our dough a slight nuttiness and depth of flavor. Because whole wheat flour tends to absorb more moisture than all-purpose or bread flour, its addition also makes our relatively high-hydration dough (ringing in at about 81% hydration!) a little bit easier to handle during the stretch and fold process.
More often than not, more time = more flavor in cooking, and this dough is no exception. This dough takes at least one full day to develop into its best self, but your patience will be rewarded! Thankfully, it is a time-intensive but not labor-intensive dough, requiring less than 5 minutes of kneading. We begin with a brief autolyse stage in which we allow the dough to rest on its own without putting in too much work. 30 minutes to one hour later, we begin a series of quick stretch-and-folds to help develop the gluten in a gentle manner, like we do in our sourdough bread recipe. Four rounds of stretch-and-folds later, we divide the dough into two portions, plop each into a well-oiled bowl, then cover and rest overnight in the fridge to further develop the flavor and gluten network. The longer the cold rest, the more flavorful the dough-go up to 4 days if you'd like to have a little bit of sourdough-like tang to your pizza!
Use it or freeze it.
Save yourself a trip to the grocery store and make a double batch of this dough if you are a pizza fanatic-after developing your desired level of cold-rest tanginess in the fridge, transfer your portioned balls of dough to the freezer (either in a lightly oiled resealable plastic bag or in an airtight container) for extended storage. Prior to use, either defrost overnight in the fridge or take out to defrost on your counter at room temperature 2 hours before your intended baking time.
Cheese first, then sauce.
If you want to avoid a soggy slice, top the pie Detroit-style with cheese underneath the sauce. Assembled this way, the sauce gets slightly caramelized and perfectly reduced when exposed directly to the hot oven heat. It also serves as a protective layer and prevents the cheese from browning too much and overcooking in the 500° oven. Ever have the cheese on your cooling pizza coagulate together into a solid sheet that slides off the slice in one piece when you go in for the bite? Not sexy. Keep it sexy and keep it saucy-just keep it on top.
Bake it hot.
Yup, that oven temp is not a typo-we're baking this baby at 500° Fahrenheit. That's about as hot as home ovens go, and it's the perfect temperature to bake at if you want a crispy-bottomed pie with a soft, tender, pillowy interior. Baking at lower temperatures will mean longer cooking times, resulting in a drier pie with a tough bite. If you're making this pizza in a cast iron skillet, we're using a 5-minute stovetop sear before the baking begins to set the crust up for crispy success-don't skip this step if you want the most gorgeously golden pie bottom even known to mankind.
And to top it off-
You can put whatever you want on your pie! Customize with your favorite ingredients: mushrooms, onions, sausage, pepperoni, peppers, olives, anchovies-nothing is off limits. Live your best life, eat your best pie.
If you've made this recipe, leave us a note and a rating down below to let us know how you liked it! For more cheesy pie inspiration, check out these 80+ pizza recipes!
Read More + Read Less – Advertisement – Continue Reading Below Yields: 2 Prep Time: 0 hours 25 mins Total Time: 18 hours 25 mins Ingredients For the tangzhong 3 tbsp. all-purpose flour (24 g.)
2/3 c. water (160 g.)
For the dough 1/3 c. plus 1 tbsp. lukewarm water (96 g.)
1 tbsp. granulated sugar
1 tsp. active dry or instant yeast (3 g.)
2 c. all-purpose flour (256 g.)
1/4 c. whole wheat flour (32 g.)
2 tsp. kosher salt (9 g.)
Extra-virgin olive oil
For the sauce 3 cloves garlic, grated
1/2 tsp. coarsely ground black pepper
2 tsp. kosher salt
1/2 tsp. crushed red pepper flakes
2 tbsp. granulated sugar
1 (28-oz.) can crushed tomatoes
For the assembly of 1 pie 1 tbsp. extra-virgin olive oil
2 tbsp. sesame seeds
1 c. shredded or sliced low-moisture mozzarella (about 5 oz.)
1/2 c. shaved Parmesan (about 2 oz.)
1/2 c. sauce
Directions
Make tangzhong: In a small pot over medium-low heat, continuously whisk together 2 tablespoons flour and ⅔ cup water until mixture is thickened and begins to bubble, about 4 minutes. Let cool to room temperature.
In a large bowl, whisk together water, sugar, and yeast and let sit until frothy, about 15 minutes. Add to bowl remaining flours, the cooled tangzhong, and salt. Using a spatula, mix ingredients until a wet, shaggy, soft dough forms. Cover bowl and let rest 30 minutes to 1 hour.
With dampened hands, going around the bowl, pick up one edge of the dough, stretch it upwards and fold it toward the opposite edge. Repeat this stretch and fold motion around the dough, then flip dough upside down so that the smooth side is facing up. Cover and rest at room temperature for 3 to 4 hours, performing a stretch-and-fold every 45 minutes to 1 hour, for a total of four sets of stretch and folds.
After the final stretch and fold, halve dough and shape each half into a smooth boule. Grease two small bowls with olive oil, then place a boule into each bowl, seam-side down. Cover and rest overnight in the refrigerator, up to 4 days. (The longer the rest, the more flavorful the dough!)
Meanwhile, make the sauce: In a medium bowl, stir together all sauce ingredients until well combined. Refrigerate until ready for assembly.
To assemble the pie: Remove dough from refrigerator and let come to room temperature for 1 hour. When dough has become more pliable, coat bottom of a 10″ cast-iron skillet with olive oil and sprinkle evenly with sesame seeds. On a lightly floured surface, using the pads of your fingers, flatten dough starting at the center of the ball, working your way outward, leaving a slightly thicker crust. Gently stretch dough until it is about 8″ wide, then place into prepared skillet and continue to press dough outward to reach ½" up the sides of the skillet. Let dough rest and proof until puffy, about 1 hour to 1 hour 30 minutes.
30 minutes before you are ready to bake, preheat oven to 500°. Place your skillet on medium heat and cook until edge of dough begins to sizzle and top of dough begins to puff, 4 to 5 minutes. Top dough evenly with cheeses, then dollop on sauce by the spoonful. Remove from heat and transfer to preheated oven.
Bake until cheese is bubbly and lightly golden, sauce is mostly set, and edges are caramelized, 11 to 14 minutes.
Let pie cool briefly in skillet, then transfer to a cooling rack before serving.
June Xie Test Kitchen Manager After working in numerous restaurant kitchens throughout NYC, June Xie joined the Delish team as Test Kitchen Assistant and chief baking expert with a passion for bread dough, peanut butter, whipped cream, and gluten free cookies.